Wilhelm Blessing GmbH & Co. KG
DesignProduction
of special clamping devices
Wilhelm Blessing GmbH & Co. KG is a medium-sized company located in Ostfildern near Stuttgart, Germany, specialized in the design and production of customized
clamping devices.
We attach great importance not only to the production, but also to the continuous development of our products. We integrate and use new technical developments and test them extensively. Blessing has been able to register several domestic and foreign patents over the years.
Our product range include chucks with an outer diameter of up to 800 mm, power chucks, hydraulically operated chucks, fixtures for various welding processes and hydraulic cylinders. Our balancing fixtures are produced using the latest technology in compliance to European standards and ISO guidelines.
Blessing. Your reliable partner in the industry for over 80 years
incrediblyrespecially
Prerequisite for quality
"Made by Blessing": Short distances, great competence, top service.
Without exception, Blessing clamping devices stand for quality "Made in Germany". Our experienced specialists produce all the component parts for each solution on today's latest high-precision machine tools. Project flexibility is quaranteed by close communication between design, production and assembly. You benefit from excellent quality that ensures very low unit costs across the entire product life cycle.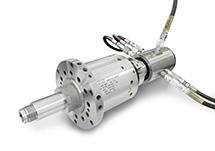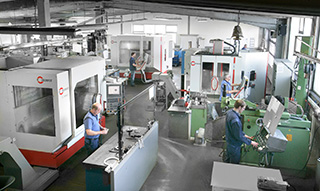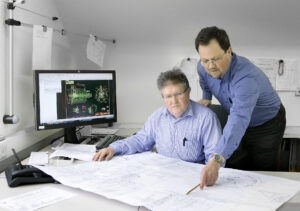 Great innovation depends on people
Excellence is only achieved in a team. That's why every Blessing employee is fully committed to the quality of our services and our success. Innovative solutions and the ongoing development of all our products are the key to successful projects. This strength of our innovation is an elementary part of Blessing's corporate culture Every day our employees actively participate in accomplishing this shared goal.
Preventive maintenance solutions
There's a motto in our industry that says the first device is bought by the
production planner; the second by maintenance. Blessing has been making
low-maintenance designs for a long time and offers preventive maintenance
solutions for every device.
Training courses
But Blessing offers more than clamping devices. Our in-house specialists also
train our customers in clamping device maintenance, repairs, set-up, assembly
and disassembly both at our company's and customer's location.
Guaranteed spare parts supply and repair
Sometimes you get stuck with obsolete components that are no longer available
on the market. This is not the case at Blessing. We repair all the products we have ever made even if they are decades old! Alternatively, you can purchase the
required spare parts made to the quality you have come to expect from Blessing.